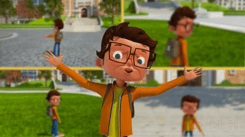 Active learning is important for all students, but it is especially beneficial to those with ADHD or ADD. Being physically active while learning helps students to increase focus and decrease hyperactivity. ADDitude magazine recently published an article highlighting the benefits of using Walkabouts for students with ADHD. From the article:
Extensive research — conducted by Reed and many others — shows that students who are physically active are the most successful academically. Physical activity increases blood flow to the brain, elevating levels of key neurotransmitters that help us focus, make connections, and remember what we've learned. But as standards have changed and testing has increased, it's been harder for teachers to squeeze movement into the school day, Reed says — a development that has been catastrophic for kinesthetic learners, or kids who need to move in order to learn. It's also been tough on hyperactive kids — more and more of whom are being diagnosed with ADHD — who often get into trouble for jumping out of their seats or fidgeting at their desk.
Moving and learning is important for all students. If you are interested in integrating movement into your lessons, contact us for more information!