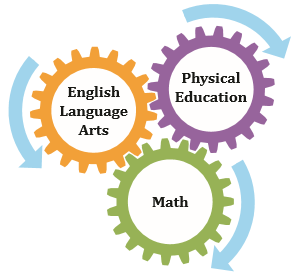 In order to incorporate more movement into the school day, teachers can use an integrated curriculum. Integrated curriculum is when two or more subject areas are combined in one lesson so students learn the content simultaneously. In addition to the academic benefits of integrating physical education and core content in the classroom, this integration also provides important health benefits for students.
What Are the Benefits of Activities that Integrate Movement and Content in Core Subject Areas?
When physical activity is included as part of classroom activities, the interaction between the child and the content is more complete because the whole child is actively involved.
Using physical activity to teach core content not only increases movement time for children, it enhances knowledge retention and promotes positive brain changes.
Integrated curriculum allows students to better grasp material from other content areas through basic movements.
Interested in learning more about the benefits of integrated curriculum and movement in the classroom? Download our e-book, Move to Learn: Exploring the Benefits of Movement in the Classroom.