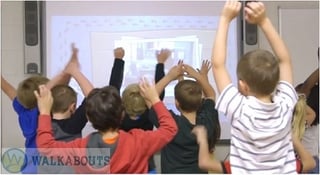 Across the United States, classrooms are filled with students busy learning with the aid of educational technology (EdTech). In addition, more and more teachers are integrating movement into their lessons. Is it possible to do both at the same time? Yes! Both have educational benefits, and here is how.
Benefits of Educational Technology
EdTech often requires more interaction on behalf of the student, leaving less room for distraction. According to an article in The Edvocate, "When students get to use technology, they're automatically more engaged. Kids love technology, and incorporating it into lessons gets students excited about learning. Adding technology to existing lesson plans can boost student engagement without requiring teachers to do a lot of extra work."
Many students find learning with EdTech to be more enjoyable; they are excited about educational games and apps. Their enthusiasm in the classroom makes students active, participatory learners and helps them retain information at a higher level.
Movement in the Classroom
Another teaching tool educators are using to keep students engaged is movement in the classroom. According to Dr. Donna Wilson, "Incorporating exercise and movement throughout the school day makes students less fidgety and more focused on learning. Improving on-task behavior and reducing classroom management challenges are among the most obvious benefits of adding physical activities to your teaching toolkit."
Quite simply, learning is physical. When we move, we learn, and we learn as we move.
The benefits of moving and learning include:
Maintaining a healthy lifestyle, a healthy weight, and preventing disease
Physical activity that is linked to improved academic performance
Cognitive stimulation that has been shown to improve concentration and focus
"Physical activity should be infused throughout the school day to activate and energize youth," says Francesca Zavacky at SHAPE America.
Integrating EdTech and Movement in the Classroom
Based on the research, it seems that combining EdTech and movement is a logical way to consistently engage students and enhance learning. This knowledge is what inspired Dr. Julian Reed to develop movement-based educational technology like Walkabouts. These supplemental lessons not only help students learn and practice required concepts, but also reduce inattention and keep students focused on learning.
The Walkabouts platform is the only movement-based supplement for
pre-K to 2nd grade students proven to increase focus, decrease hyperactivity, and increase classroom engagement, an indicator of academic performance in math and language arts.
We encourage you to take a look at some of our sample Walkabouts.