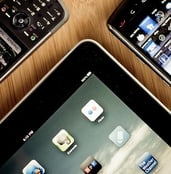 Technology in gym class? For those of us who remember the "good old days" of four square and flag football, the concept seems foreign. But Victor Kass, a health and physical education teacher in Brampton, Ontario, understands the importance of technology in the phyiscial education. In a recent post at EdTech Magazine, Kass highlights his initial thoughts on the matter:
Six years ago, when I first started my dream job as a full time physical education teacher at a brand new public high school, our administrators believed in having a strong technological focus, which did not mean a whole lot to me.

I thought, "How could a tablet possibly help a kid get more fit?"

In my eyes, these devices were much more of distraction than a tool to improve physical fitness.

Once I began the new job, I started interacting with the online #PEgeeks community on Twitter. I tried various ideas to utilize tech in my phys ed classes with a mixture of success and failure. However, this was all part of the learning for me and my students.

Now, I believe I may actually have a handle on educational technology in my subject area!
How does your district integrate tech and physical education? We'd love to hear your story. Looking a way to integrate technology in pre-K through second grade classrooms? We can help!