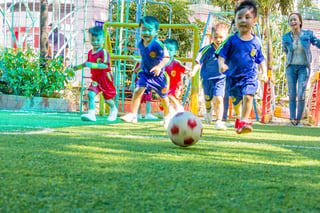 ADDitude magazine, a great source of information for families and adults living with AdHD and learning disabilities, recently posted an article Karate or Kickball? Fencing or Football? The Best Sports for Kids with ADHD. The article states:
Active kids are healthy kids, but not all sports play well with ADHD traits. Learn why parents and experts recommend martial arts, swimming, tennis, and 7 other sports to promote health, self-esteem, and teamwork.
Exercise can help control ADHD symptoms by raising the baseline levels of dopamine and norepinephrine in the brain. So registering your ADHD child for an after-school sport is a great idea, right? Well, it depends. Not all sports are created equal; depending on your child's unique set of symptoms, certain sports may be more advantageous than others.
Which sports does ADDitude recommend for kids with ADHD?
Swimming
Martial Arts
Tennis
Gymnastics
Wrestling
Soccer
Horseback Riding
Track
Cross Country
Archery
Baseball
Why do these sports make a difference? With the right coaching and guidance, each of these sports can bring out the natural talents in children while improving a child's ability to focus. These sports can also have a great impact on a child's personal development.
The research on active learning is clear: kids who are active have increased focus and reduced hyperactivity. This benefits all children, but the benefits to those with ADHD are especially important. If you are looking for a way to make physical activity an integral part of your students' school day, check out Walkabouts. Walkabouts integrate movement into pre-K through second grade lessons focusing on math, language arts, and reading. Request more information today!