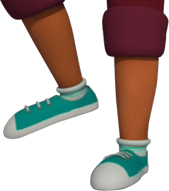 New research from Texas A&M provides evidence that students using standing desks slow the increase of their body mass index (BMI) by an average of 5.24 points. According to research published in the American Journal of Public Health, standing desks increased student engagement and had a positive impact on classroom management for teachers.
The study included 24 classrooms in three Texas elementary schools. 193 students were monitored for two years. An article from Vital Record indicates why this research is important.
"Research around the world has shown that standing desks are positive for the teachers in terms of classroom management and student engagement, as well as positive for the children for their health, cognitive functioning and academic achievement," said Mark Benden, PhD, CPE, an associate professor in the Department of Environmental and Occupational Health at the Texas A&M School of Public Health and an author of the study. "It's literally a win-win, and now we have hard data that shows it is beneficial for weight control."
ActivEd was founded on the belief that students should stay active in the classroom. We know that keeping students moving while learning leads to increased focus and reduced hyperactivity in addition to increasing student achievement. Active classrooms also lead to healthier students overall. Want to learn more about keeping your pre-k through 2nd grade students active with standards-based lessons? Request more information today!