The SCECA conference (titled Ignite Your Passion as We Build Strong SC Children) took place on January 19-21, 2017 in Myrtle Beach, SC. The conference brought together more than 1670 educators who serve children birth to age eight. Participants were evenly divided between those who work at child development centers and those who work at schools.

ActivEd, Inc. exhibited Walkabouts at the conference. Attendees reacted positively to Walkabouts, web-based lessons for pre-k to second grade students that integrate movement with language arts, reading, and math content. Educators, parents, and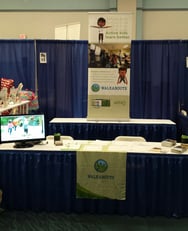 professionals from varied settings were interested in learning more about bringing Walkabouts into their schools, child development centers, and afterschool programs. Some attendees also planned to mention Walkabouts to friends who homeschool their children.

Walkabouts are not a replacement for physical education in schools. However, Walkabouts are a great way to incorporate physical activity into the school day, out-of-school time, or any time children are together. Make sure the children in your life get the Centers for Disease Control and Prevention's recommended 60 minutes of physical activity a day by adding Walkabouts to your routine!

To learn more about what research says about active learning, visit ActivEd's research page.