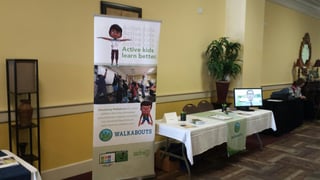 The SC Obesity Summit (titled Going the Distance: Achieving HEALth Equity Together) presented by Eat Smart, Move More SC took place on October 24, 2016 in West Columbia, SC. The summit brought together healthcare professionals, educators, public health officials, community leaders, and others interested in obesity prevention. The goals of the summit were to:
Learn about existing healthy eating, active living initiatives in rural and urban areas of SC.
Discuss successes and lessons learned from partners and coalitions promoting healthy eating, active living.
Build partnerships to accomplish healthy eating, active living objectives.
The summit's workshops addressed topics including nutrition counseling, health equity in schools and Latino communities, worksite wellbeing strategies, public policy, and much more. In addition, speakers addressed food access and the new Obesity State Plan for SC. Information about the Obesity State Plan can be accessed at http://scaledown.org.

ActivEd, Inc. exhibited Walkabouts at the summit. Attendees reacted positively to Walkabouts, web-based lessons for pre-k to second grade students that integrate movement with language arts, reading, and math content. Educators, parents, and professionals from varied settings were interested in learning more about bringing Walkabouts into their schools, afterschool programs, Boys and Girls Clubs, Vacation Bible Schools, Sunday schools, summer programs, and other settings. Some attendees planned to mention Walkabouts to friends who homeschool their children.

While Walkabouts are not a replacement for physical education in schools, they are a great way to incorporate physical activity into the school day, out-of-school time, or any time students are together. Make sure the children in your life get the recommended 60 minutes of physical activity a day by adding Walkabouts!

To learn more about what research says about active learning, visit ActivEd's research page.