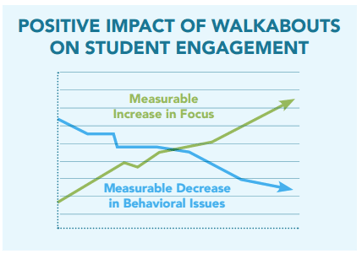 Researchers at Iowa State University* in collaboration with the Department of Pediatrics at the *University of California at Irvine independently examined the effectiveness of our Walkabouts in a recent research study. The purpose as outlined in the attached scientific abstract was: to examine the effect of integrated physical activity with academic subjects using the "Walkabouts" program, compared to traditional lessons, on inattention and hyperactivity among PreK to 2nd grade students over an 8-week period. Results showed that children assigned to the intervention group improved significantly more, compared to the control group, in both inattention and hyperactivity, whereas children in the control group had a decrease in their performance over the 8-week period. Students who received Walkabouts had a decrease in hyperactivity while increasing their attention. This was an independent study conducted by these two R1 research universities and ActivEd was not involved in the administration, was blind to the methodology and the results until the study was completed.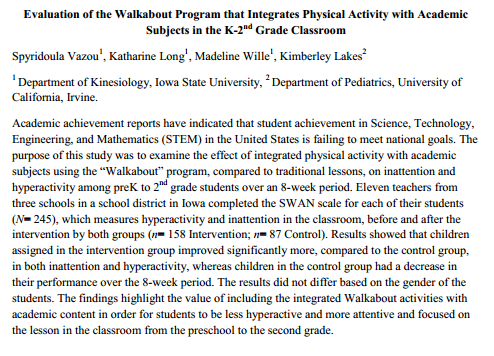 *Iowa State University and the University of California at Irvine are two of 115 institutions that are classified as "R1: Research Universities (Highest research activity)" in the Carnegie Classification of Institutions of Higher Education in the US.
Would you like to see this research in action in your classrooms? Request a free trail of Walkabouts!