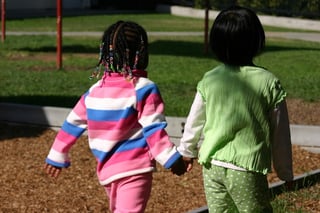 As a former four square all star (at least in my own mind!), I'm always disheartened when I read about schools cutting corners on recess. As an adult, I understand the need for brain breaks for kids. As a kid, it was just about having fun. The amount of research on the importance of recess is staggering, including this recent article in the Washington Post on the LiiNK Project that studied the effect of four activity breaks on students in schools in Texas and Oklahoma. From the article:
Recess serves as a necessary break from the rigors of concentrated, academic challenges in the classroom. But equally important is the fact that safe and well-supervised recess offers cognitive, social, emotional, and physical benefits that may not be fully appreciated when a decision is made to diminish it. Recess is unique from, and a complement to, physical education — not a substitute for it. The American Academy of Pediatrics believes that recess is a crucial and necessary component of a child's development and, as such, it should not be withheld for punitive or academic reasons.
Making sure kids have access to fun is an important part of any child's school day. That's why we've created Walkabouts to get kids up and moving while having fun and learning. Kids and their teachers love Walkabouts. Learn more about how you can bring Walkabouts into your classrooms!