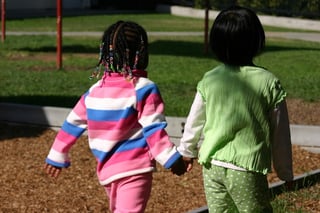 Everyone loves seeing children light up when they talk about their favorite subject in school. Often, when younger kids are asked the infamous question, "What is your favorite subject?," they answer "physical education class or recess." Does every child love recess? Not necessarily. According to Consumer Reports:
However, research has shown that not all kids take advantage of this time to run around and be active, which may adversely affect their health in the long run. Luckily, a new study from the University of Missouri shows that zones that include specific games encourage even the most hesitant students to participate in healthy exercise.

"Playground zoning is one way schools can be proactive in their students' health and wellness. Recess is the best way for young children to be active, and through playground zoning, schools can ensure that children are achieving maximum benefits during their recess period," said associate professor Stephen Ball.
The article goes on to discuss the benefits of active students:
"Past research has proven that activity helps academic performance. By reworking traditional recess games to be more vigorous, children are able to increase their physical activity in a really easy way, improving their health and doing better in school," said Jill Barnas, a doctoral student at the University of Missouri.
To learn more about this research, visit The Physical Educator.
Physical activity makes a huge impact into student achievement. Looking for more active learning research? Check out our collection of research, or download The Science Behind Walkabouts.