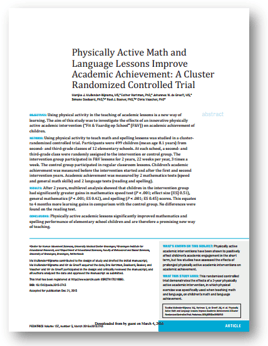 A great new research paper was recently published by the American Academy of Pediatrics: Physically Active Math and Language Lessons Improve Academic Achievement: A Cluster Randomized Controlled Trial by Marijke J. Mullender-Wijnsma, MS, Esther Hartman, PhD, Johannes W. de Greeff, MS, Simone Doolaard, PhD, Roel J. Bosker, PhD, Chris Visscher, PhD.
The objective of the study was to determine the impacts of physically active lessons on student outcomes. Just under 500 students participated in the two-year study. Half of the students participated in lessons infused with activity, and the remaining students participated in regular classroom activities. The results? Active students had significantly higher levels of achievement than those who were not active. How significant? The equivalent of an extra four months of learning in math and spelling.
The conclusions drawn by the team:
Physically active academic lessons significantly improved mathematics and spelling performance of elementary school children and are therefore a promising new way of teaching.
At ActivEd, we know that active students learn better. The research done by Dr. Julian Reed has repeatedly shown the importance of movement and learning. Download the Science Behind Walkabouts today!