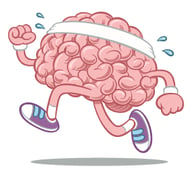 How can exercise help individuals with ADHD? Harvard neuropscychologist Dr. John Ratey has been studying this question for more than 30 years. A recent Huffington Post article states:
There's an "explosion of papers," Ratey says, in the science literature that provide ample evidence that physical activity helps control ADHD and improves the functions of the frontal cortex. The cortex controls executive function -- the thinking part of the brain. "When you get kids moving and have them involved in sports, attentional issues go away," he says. "These are proven facts. It's not even a question."
The article goes on to discuss the impact of schools that implement three exercise periods daily to help students with ADHD focus. Many educators understand the value of physical activity for all students, but the challenge is taking time out already busy school days for students to be active.
ActivEd can help! Walkabouts are integrate math and English Language Arts standards into movement-rich lessons. Want to learn more? Request more information!