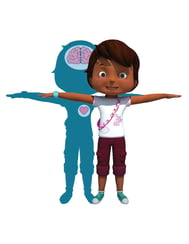 We have an updated abstract on the Walkabouts research from the Department of Kinesiology, Iowa State University, and Pediatric Exercise and Genomics Research Center and Department of Pediatrics, University of California, Irvine. From the abstract:
Schools represent a natural choice for promoting physical activity (PA); however, school time provided for physical education and PA has continued to decline, primarily due to increased time focused on meeting academic achievement goals. An evolving literature demonstrates that PA in the classroom represents a promising avenue not only for increasing the PA of youth but also for facilitating academic achievement and classroom engagement. Classroom-based PA has been recommended by a number of national organizations as a potential avenue for children to meet the PA guidelines. However, structured PA programs that make clear connections with the academic standards in different subject areas across different grades are limited. The primary purpose of this study was to examine the feasibility and effectiveness of the "Walkabout" web-based program that integrates PA with academic subjects through an active learning platform on children from preK to 2nd grade.
Learn more about the research here.While Walkabouts are not a replacement for physical education, they are a great way to incorporate physical activity into the classroom. Make sure your students get the recommended 60 minutes of physical activity a day by getting Walkabouts in your classroom.