Are you looking for a fun way to help first grade students grasp key math and reading concepts?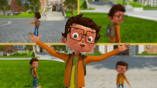 Making lessons fun for students can be a challenge for some first grade teachers. That's why we've developed Walkabouts, our research-based product designed to incorporate movement into lessons. Active classrooms help students learn–while keeping them engaged. Our 7-10 minute learning adventures guide students through standards-based lessons that are movement-rich.
See the following example of a first grade lesson.
Follow Jax through the city in this lesson on expressing the length of an object.
Like what you see?
Get access to our early learning Walkabouts. Learn more about how Jax and Gia get your students moving and learning to improve student outcomes (and have fun!).