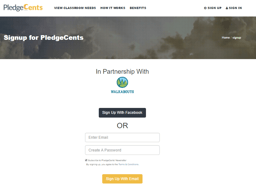 Finding funding for active learning can be a challenge. ActivEd is excited to announce a simple way to get a Walkabouts subscription for your classroom—for free. Beginning August 1, we are partnering with PledgeCents to create a streamlined way for you to raise the funds needed to cover the cost of purchasing Walkabouts. Join teachers across the country who are bringing Walkabouts and active learning into their classrooms!
What is PledgeCents?
PledgeCents is an online fundraising platform for all PreK-12 needs. Since 2014, PledgeCents has helped teachers and schools in 48 states raise more than $550,000. With its flexible platform, teachers can raise money for needs that are not served by other crowdfunding sites.
How can I use P

ledgeCents for my Walkabouts subscription?

1. Sign up via www.pledgecents.com/signup/partner/walkabouts.
2. Create your cause, and submit it for approval.
3. Spread the word and raise the funds.
4. Receive access to Walkabouts without having to pay out of pocket.
How long does it take?
It takes just a few seconds to sign up and up to 30 days to be able to raise funds.

What are the benefits of using PledgeCents for my Walkabouts' subscription?
1. It's quick and easy! By signing up through this unique link, you will have a cause automatically created for you for exactly what you need.
2. There is no penalty. Any funds you raise will be put to use even if you don't raise the full amount.
3. It's automated. The PledgeCents team will automatically activate your Walkabouts subscription as soon as you raise the funds, and you don't have to do anything.
4. You get one-on-one customer service. If you have any questions about setting up your cause, raising funds, or best practices, the team at PledgeCents is available to help.
Have additional questions? Check out this FAQ on PledgeCents. Ready to start your cause? Go to PledgeCents.com to get started.