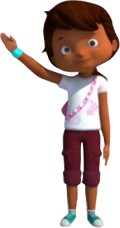 As 2015 winds down, kids may be winding up in the classroom. Focusing on lessons can be a struggle for all students, but especially Pre-K to 2nd grade students. To celebrate the holiday season, we are giving free access to Walkabouts, our supplementary online lessons that incorporate movement in math, reading, and language arts.
Research shows that kids who are physically active have improved on-task behavior. Our multisensory lessons help students of multiple learning styles. Active classrooms are especially beneficial for kinesthetic learners and students with ADD/ADHD.
Watch this sample first grade lesson to find out how Walkabouts can help your students learn. Additional videos for other grade levels are located here.
ActivEd wants to give all classrooms the benefits of active learning, including increased achievement, healthier choices, and improved behavior. Take advantage of free access to Walkabouts until January 8, 2016!