Are you looking for technology that integrates movement with language arts, reading, and math content and is easy to implement? Walkabouts fits the bill! Following are the 4 keys for a digital implementation and how Walkabouts stacks up to each.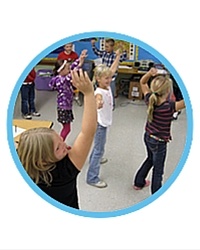 Bandwith and Saturation: To prepare to use Walkabouts in the classroom, a school should ensure not only sufficient

bandwidth for all computers and other devices that will play Walkabouts, but also reliable and consistent access to the internet.

Staff/Community Readiness: A Walkabout can be played in a classroom setting in just a few clicks and requires no intensive teacher preparation. Teachers should tell students they'll be up and out of their seats as they move while they learn with Walkabouts. If desired, teachers can also provide student access to Walkabouts at home to make a home-school connection.
Devices/Platform: The web-based Walkabouts platform is designed to operate easily and effectively using standard equipment available in virtually all classrooms. Necessary technology and equipment include an internet connection, a computer with up-to-date browser, and an optional display or projector.
Implementation/Rollout: Because Walkabouts supplement what teachers are already covering in the classroom, implementation is as simple as picking a Walkabout to introduce a concept, provide practice on a topic, or review a previously-taught skill. To help teachers implement Walkabouts, ActivEd provides Quick Reference Guides and how-to videos for both teachers and students/parents.
Want to learn more about Walkabouts?
Ready to get started moving and learning with Walkabouts? Email contact@activedinc.com!