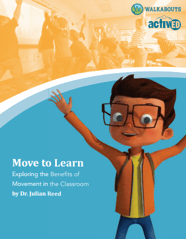 Classroom teachers know that active kids are more focused. What does the research say? More than 30 years ago, researchers found a positive correlation between physical activity and school performance. Unfortunately, despite this research, most elementary school children remain sedentary throughout the school day. What benefits can students gain if they move as they learn?
| | |
| --- | --- |
| | Physically active and fit children tend to have better academic achievement. |
| | Physical activity stimulates the release of epinephrine and norepinephrine (adrenalin), enabling children to become alert and ready to learn. |
| | Physical activity improves concentration and reading and math performance with the strongest relationship between activity and concentration. |
Want to learn more? Download our e-book Move to Learn: Exploring the Benefits of Movement in the Classroom.