The National Institute of Mental Health lists symptoms of ADHD as difficulty staying focused and paying attention, difficulty controlling behavior, and hyperactivity or over-activity. Using movement as a tool to enhance learning has been found to decrease behavioral episodes of children with ADD and ADHD. Some ADD and ADHD can be treated with non-pharmacologic agents such as physical activity. Perhaps teaching the elementary curriculum with specific emphasis on fundamental movements could decrease the symptoms associated with ADD and ADHD.
What Does a 2015 Study Show About the Link Between Attention Disorders (ADD and ADHD) and Movement?
According to a 2015 study by the MIND Institute at the University of California-Davis, physical activity seems to allow children with ADHD to focus on what they are doing.
In children with a diagnosis of ADHD, the 2015 study found:

Children who moved more intensely showed better cognitive performance.
The accuracy of children's performance on tests significantly improved when they were moving.
Hyperactivity in children with ADHD may help them think.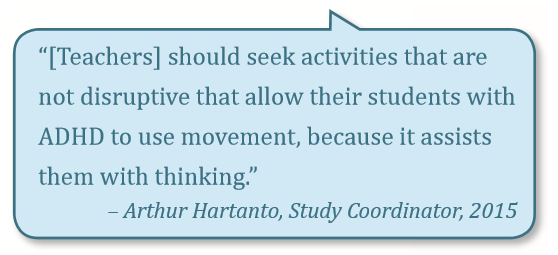 Want to learn more about the benefits of movement in the classroom to students with ADHD? Download our e-book, Move to Learn: Exploring the Benefits of Movement in the Classroom.