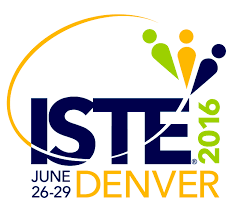 There's a lot to see and do at ISTE 2016 in Denver. We have a favorite poster session to recommend! Our founder, Dr. Julian Reed, will be presenting with St. Vrain, Colorado kindergarten teacher Suzannah Evans on the difference movement can make in the classroom.

The session How Movement in Classrooms Improves Learning, Behavior, and Assessment is a must-see! From the link:

The data on the benefits of physical activity on learning is clear. Why not integrate movement into core activities in ways that improve learning, behavior, and a teachers' ability to assess? We'll present evidence-based strategies and success stories.

Both Dr. Reed and Ms. Evans have extensive knowledge on kinesthetic learning and its benefits for students. They are also experienced, energetic presenters. Ready to learn more? Stop by the session on Tuesday, June 28 from 1:15–3:15 pm at the Colorado Convention Center Lobby D, Table 26.

See you there!