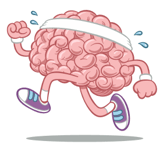 Students with neurodevelopmental disorders (such as autism and attention deficit/hyperactivity disorder) can get excited about exercise when working out. Unsurprisingly, the best way to get kids excited about working out is to make sure they have fun! From a Science Daily article on a small, international study:
"We found that a child having fun was a much greater indicator of how likely he or she was to continue exercising," said Matthew Lustig, senior medical student at the Medical College of Georgia at Augusta University. Lustig is enrolled at the Augusta University/University of Georgia Medical Partnership in Athens, a four-year campus of the medical school.
Identifying an activity they are good at, from playing basketball to running to tennis, was another top reason for staying physically active, survey participants said. In fact, lack of skill was a much larger deterrent than bottom lines like financial and transportation limitations, said Lustig, who is first-author on a poster presented today at the American Medical Association Research Symposium in Orlando, Florida.
"In targeting interventions that increase exercise, creating more cost-effective options may not be as necessary as creating more fun options," Lustig said.
Finding ways for students to have fun while being active can be a challenge. For younger kids, try Walkabouts! It's a great way to get students worked up about working out! Get more information today.