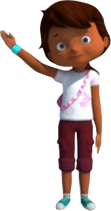 Getting kids moving is important to their health, their well-being, and their academic success. How important is it? Homeroom, the official blog of the U.S. Department of Education, highlighted the importance:
How do we make sure every young person — no matter where they live or their family's income — has the opportunity to be active and healthy every day? We believe schools are an important part of the answer. Simply put: children go to school five days a week, so schools are in a unique position to help kids exercise regularly. Plus, physical activity helps kids concentrate on classroom tasks and improve their standardized test scores. That means schools have a vested interest in keeping kids active so they'll do better academically.
Unfortunately, many school districts lack the resources to offer robust physical education programs. There are lots of reasons schools have had to cut back on physical education classes and recess: not enough funding, few safe spaces to play, the need for more classroom time to make sure every child is given educational opportunity. The number of things schools have to accomplish every day is enormous.
The article continued with a focus on afterschool activities. At ActivEd, we take a different stance. By incorporating physical activity into lessons, teachers can get their students moving while teaching! Want to learn more? Request more information.