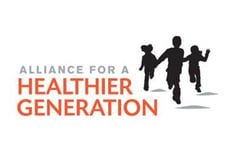 ActivEd is excited attend Alliance for a Healthier Generation's Leaders Summit in Washington D.C. September 30-October 1, 2016. During the summit, Alliance for a Healthier Generation will celebrate America's healthiest schools and award Healthier Generation HERO Awards. ActivEd is thrilled to be a part of this event that celebrates innovations that help students stay healthy and fit.
Alliance for a Healthier Generation is focused on solving childhood obesity and needs your help. Looking for a way to help your district? Join the movement! Opportunities include:
Making schools healthier
Keeping kids active when they are out of school
Empowering young people
Working with doctors and other healthcare professionals
Training for events, supporting athletes, and raising funds
Getting companies involved
Donating to the cause
If you are attending the summit, stop by and talk to Dr. Julian Reed to learn more about the difference Walkabouts can make in the fight against childhood obesity. Not attending? Request more information on how we can help!