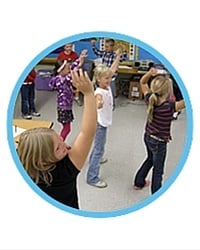 Teaching math can be a challenge. Is it better to start early? PBS Newshour recently aired a piece on the benefits of teaching math to 3-year-olds. In Boston public schools, 3, 4, and 5-year-olds are getting started on the basics. From the video:
"Early math is surprisingly important. What kids know in their preschool or entering kindergarten year about mathematics predicts their later school success. In mathematics, sure, that makes sense, but it even predicts later reading success, as well as early literacy skills do.

Early math is cognitively fundamental. It's not just about number and shapes. There's reasoning and thinking embedded in what we do in early mathematics that forms a foundation for years to come." Doug Clements, early learning expert at the University of Denver.
The piece shows how important it is to get children learning early through engaging methods. That's why our prekindergarten Walkabouts have been so helpful for early education. Walkabouts are correlated to Head Start and soon to National Association for the Education of Young Children (NAEYC) standards to support early childhood educators. Kids are moving and having fun while learning key concepts. Ready to start using active learning to engage your students? Learn how!