According to a 2016 study, teachers, parents, and even students want to supplement school work with more at-home learning with digital tools. The article 3 Ways to Continue Learning at Home with Technology lists ways to bridge the home-school divide.
Educational Gaming Can Boost Creativity and Critical Thinking Outside of School
Blended Learning Programs Change the Shape of Classroom Learning
Cloud Applications Helps Teachers Assist Anytime
From the article: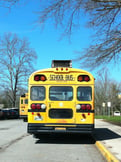 " . . . teachers are often not providing these opportunities because they perceive boundaries that might not actually exist, in terms of parental assistance. A large majority (88 percent) of parents surveyed are very or somewhat interested in having more at-home digital content to supplement school work.
. . . some schools have successfully used technology to expand the school day beyond the last bell."
If you're looking for ways to build a home-school connection with technology, Walkabouts can help! Did you know that a Walkabouts subscription includes student access at home? By assigning Walkabouts as homework, teachers can inject movement into the traditionally static homework environment. If students don't have internet access and computers at home, teachers can print and assign Walksheets as homework. These worksheets go beyond the traditional paper and pencil and include a movement component.
Want more information?