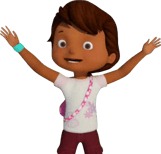 According to a recent Harvard Health Publications article from Harvard Medical School, yoga can make a huge difference for students. In a recent blog post, More than just a game: Yoga for school-age children, by Marlynn Wei, MD, JD, 3% of American children are doing yoga. This has led to improved physical fitness in addition to psychological benefits. There are also specific benefits to students with ADHD. From the article:
"Emerging research studies also suggest that yoga can help children with attention deficit hyperactivity disorder (ADHD) by improving the core symptoms of ADHD, including inattentiveness, hyperactivity, and impulsivity. It can also boost school performance in children with ADHD. A growing number of schools now integrate yoga and mindfulness into physical education programs or classroom curriculums, and many yoga studios offer classes for school-age children. Yoga can be playful and interactive for parents and children at home, as well."
Incorporating yoga and other physical activity into the classroom is vital for the health and well-being of students—especially those with special education needs such as ADHD. The science shows the benefits of movement for students. Check out the research!