The New York Times article Reading, Math and Sushi:
Cooking as a Health Lesson describes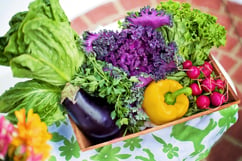 a successful nonprofit program that reaches 50,000 children in four states. The Wellness in Schools program "which aims to teach public school students about healthful eating and fitness, partners with chefs . . . to develop nutritious recipes children are excited about trying. . . .The goal is not to try to make kids eat food that they won't like but to make things they already like healthier, and to instill an interest in cooking fresh, healthy food that carries over to the way the children eat at home."
Wellness in Schools program founder Nancy Easton says, "Schools are examples for reading, writing and arithmetic, examples for how to behave. . . . They need to become examples for healthy living."
According to the Harvard T. H. Chan School of Public Health, "A diet rich in vegetables and fruits can lower blood pressure, reduce risk of heart disease and stroke, prevent some types of cancer, lower risk of eye and digestive problems, and have a positive effect upon blood sugar which can help keep appetite in check."
Adding exercise in addition to a healthy diet is another step toward healthy living. Walkabouts by ActivEd can help pre-K to second grade teachers integrate movement into language arts, reading, and math lessons. Want to learn more about the research behind Walkabouts?