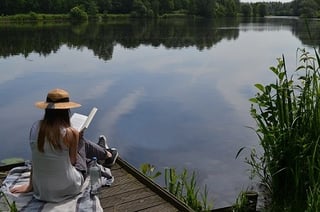 Summer is a fantastic time to catch up on your professional development reading. Many educators use the summer to investigate new technologies that can help them in the classroom, collaborate with their teaching community, plan lessons, and/or streamline processes.
There are many wonderful technology-oriented professional books on the market, so we thought we'd share what's on our reading list:
Written by Steven W. Anderson, renowned speaker and blogger on education, and published by ASCD, The Tech-Savvy Administrator focuses on how successful educators can use technology to be more effective in the classroom and leverage social media to develop an online community and increase collaboration. Anderson is also a co-founder of the popular Twitter #EdChat, so he is really in tune with the education community's needs.
This quick-read (less than 200 pages!) is full of tips and tricks for using technological tools to streamline processes, increase collaboration, and maximize efficiency. Authors Brad Currie, Billy Krakower, and Scott Rocco provide teaching hacks that range from the use of software such as Google sheets to hardware like Chromebooks in the classroom.
In Teaching the 4Cs with Technology, also published by ASCD, authors Stephanie Smith Budhai and Laura McLaughlin Taddei focus on technology and the 4Cs: critical thinking, communication, collaboration, and creativity. Their goal is to show educators how to integrate technology into instruction in order to facilitate the practice and mastery of each of these skills while simultaneously achieving other learning objectives.
These are just a few of the titles on EdTech. Do you have any recommendations for us? Tell us in the comments below!