How are you using formative assessment in your classroom?
Outside the classroom, assessment conversations focus on summative assessment and high-stakes testing. As educators, it's easy to see the importance of those assessments. We also know that unless formative assessments are completed daily in the classroom, there is no way of knowing how well students grasp the concepts of the lessons you are teaching.
What is the difference between formative and summative assessment?
Formative assessment or informal assessment is used to gauge student understanding of a lesson. Using formative assessment, teachers can identify students' strengths and weaknesses and prepare to address any problems immediately.
Summative assessment evaluates students' understanding at the end of a unit or at the end of the school year. The PARCC and Smarter Balanced Common Core assessments are also summative assessments.
---
All teachers understand the importance of formative assessment in gauging students' understanding. What if teachers could tell at a glance which students need help? With Walkabouts, they can! By simply watching the movements students complete, teachers can see which students grasp the concepts and which students need help.
As the characters Jax and Gia guide students through the lesson, teachers can assess students as they move. The Walkabouts platform also includes an assessment tool teachers can use to track students' understanding of the concepts.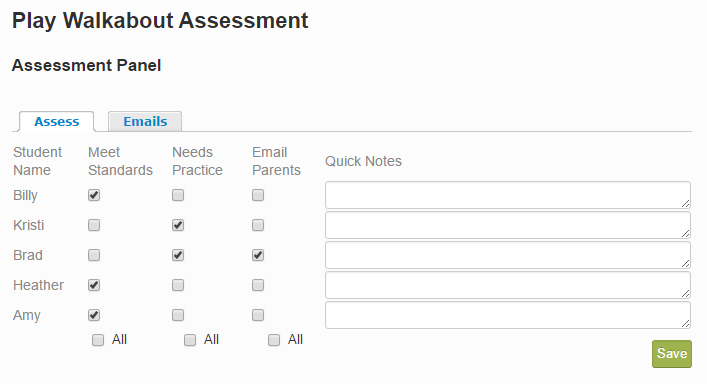 The formative assessment allows teachers to track how students are doing, to take notes, and to contact parents with information on students' performance. Parents can then help their children work on lessons at home. The great news: students have access to Walkabouts at home, and some of the activities change—making Walkabouts interesting!

Want to use Walkabouts to assess your students' progress?