Health and wellness impact many areas of our lives. I'm passionate about helping educators use physical activity to make a difference in students' lives. I wrote my book Active Education: Lessons for Integrating Physical Activity with Language Arts, Math, Science and Social Studies to share my research and expertise with classroom teachers. That is also why I founded ActivEd, Inc. The preface of my book explains why I feel so strongly about integrating physical education into all subject areas.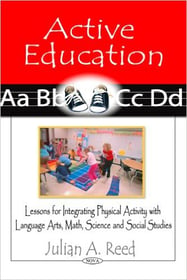 The belief that physical activity plays a pivotal role in the public health of our nation's children is no longer a minority opinion, but rather, a mainstream belief. The health benefits associated with leading an active healthy lifestyle are well documented; yet America's youth remain inactive and overweight, if not obese. Data suggest that about 25 million adolescents are pushing the scales towards obesity. Close to half of American youth do not participate regularly in physical activity and many children report no participation in activity during an average week.
An abundance of empirical research findings illustrates how regular physical activity provides a wide array of physiological health benefits. What is frequently overlooked is the link between movement and enhanced cognition in children. Brain research suggests that increasing movement time has the potential to foster academic performance while simultaneously improving the health of our nation's children. Empirical evidence from leading scientists reveals strong associations between the cerebellum and memory, spatial perception, language attention, emotion, nonverbal cues and decision making ability among children who are active while learning in the classroom. When regular physical activity is integrated with traditional elementary school curricula improved concentration, reading

and mathematics performance, and academic achievement have been documented.
Furthermore, using movement as a reinforcer to enhance learning has been found to decrease behavioral episodes of children suffering from ADD and ADHD. The current emphasis on performance pedagogy and standardized testing related to "No Child Left Behind" has caused many states and school districts to reduce physical education offerings. In some instances reductions in the amount of daily recess time have been made also, all in an effort to increase classroom contact hours with the hope of boosting test scores.
Many teachers and principals often ignore research that demonstrates that teaching current elementary school curricula (i.e., Language Arts, Math, Science and Social Studies) with movement can improve academic performance and achievement while improving the wellness of future generations of children. Active Education: Lessons for Integrating Physical Activity with Language Arts, Math, Science and Social Studies provides teachers with tested activities designed for teaching required elementary school curricula with movement with the result of improved learning while making both teaching and learning more enjoyable.
If you would like to learn more about how research influenced the development of Walkabouts, download my white paper.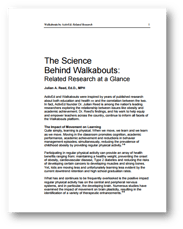 Reed, J. (2009). Active education lessons for integrating physical activity with language arts, math, science and social studies. New York: Nova Science.