---
Looking to help your preschool students learn while they get the wiggles out?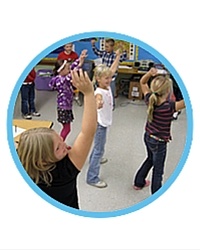 At ActivEd, we understand that most students learn better while moving (and we have the research to prove it). Having fun and being active makes learning more engaging. Our 7-10 minute web-based lessons are guided by characters Jax and Gia and are designed to promote active learning.
Each lesson is based on a specific standard. Additionally, the lessons are movement-rich and animated in kid-friendly colors. Don't take our word for it, see an example lesson below.
In this Walkabout, Gia guides students through a lesson on the math concept of categorizing by attributes.
Like what you see?
Get access to all of our Walkabouts (from pre-K to 2nd grade). Learn more about how Jax and Gia can get your students moving and learning to improve student outcomes (and have fun!).
---