Active Learning Research
Does Incorporating Physical Activity Improve Student Outcomes?
Yes! Getting kids moving helps children learn—and here's the research to prove it. ActivEd founder Dr. Julian Reed is among the nation's leading researchers exploring the relationship between issues such as obesity and academic achievement. The research clearly shows that an active education leads to:
Increased student engagement and achievement
Improved comportment
Reduced behavior referrals
Adoption of healthy habits and reduced obesity
Walkabouts do more than make language arts, reading, and math fun. Walkabouts are researched-based, and each online adventure engages students in kinesthetic learning. Learn more about the scientific foundation of Walkabouts in the following articles.
---
New Research: Evaluation of the Walkabout Program that Integrates Physical Activity with Academic Subjects in the K-2nd Grade Classroom
Spyridoula Vazou, Katharine Long, Madeline Wille, Kimberley Lakes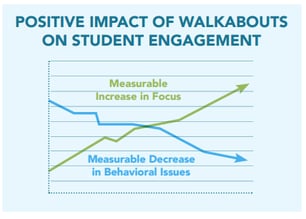 Independent researchers at Iowa State University and the University of California at Irvine examined the impacts of Walkabouts as a supplement to traditional lessons versus controls with traditional lessons alone. Pre-K to 2nd grade students exposed to Walkabouts' standards-aligned, physically engaging lessons for eight weeks showed significant improvements in inattention and hyperactivity.
Download the abstract, and check back for more information as it becomes available.
The Science Behind Walkabouts
Julian A. Reed, Ed.D., MPH
ActivEd and Walkabouts were inspired by years of published research about both education and health—and the correlation between the two. Dr. Reed's findings and his work to help equip and empower teachers across the country continue to inform all facets of the Walkabouts platform.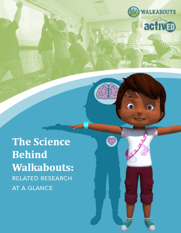 Learn more about:
The impact of movement on learning

The demands of differentiation of learning preferences
Examining the Impact of Integrating Physical Activity on Fluid Intelligence and Academic Performance in an Elementary School Setting: A Preliminary Investigation
Julian A. Reed, Gilles Einstein, Erin Hahn, Steven P. Hooker, Virginia P. Gross, and Jen Kravitz
This study examines the impact of active learning on students. Teachers incorporated 30 minutes of physical activity into the class curriculum three days a week. The results: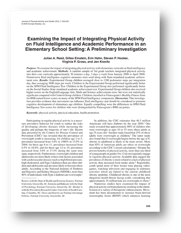 Active students had nearly 1200 pedometer steps per activity day and averaged 3600 steps per week when active.

Students who exercised had improved outcomes on achievement tests and performed significantly better in fluid intelligence testing compared to students who did not exercise.
Read more about this study to find out how your district can improve student outcomes through integrating physical activity in the classroom!
Examining the Impact of 45 Minutes of Daily Physical Education on Cognitive Ability, Fitness Performance, and Body Composition of African American Youth
Julian A. Reed, Andrea L. Maslow, Savannah Long, and Morgan Hughey
Looking to reduce the achievement gap? Physical education can make a difference for all students. This study reviewed the impact of 45 minutes of daily physical activity in African American students from 2nd to 8th grade. The results: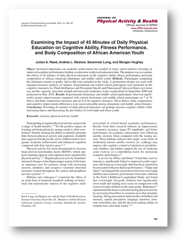 Students participating in physical education showed increased results in cognitive measures.
Active students improved in fitness and body composition measures.
Download the research to learn more about the impact of physical education on African American students.
Active Education: Lessons for Integrating Physical Activity With Language Arts, Math, Science and Social Studies
Julian A. Reed, Ed.D., MPH
In this book, Dr. Reed discusses the current state of physical activity and the importance of student wellness. He also reviews what brain research reveals about movement and the importance of kinesthetic learning. The bulk of the book focuses on how to incorporate active learning into the classroom and includes topics such as: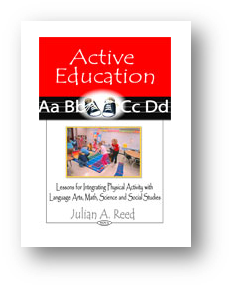 Movement for children with ADD and ADHD
Incorporating movement with Common Core and state standards
Integrative activities for language arts, math, science, and social studies
Interested in reading more? Buy the book!
Physical Activity, Fitness, Cognitive Function, and Academic Achievement in Children: A Systematic Review
Joseph E. Donnelly, Ed.D, FACSM (Co-Chair); Charles H. Hillman, Ph.D. Co-Chair; Darla Castelli, Ph.D.; Jennifer L. Etnier, Ph.D., FACSM; Sarah Lee, Ph.D.; Phillip Tomporowski, Ph.D., FACSM; Kate Lambourne, Ph.D.;and Amanda N. Szabo-Reed, Ph.D.
This study used primary source articles (including those by Dr. Julian Reed, founder of ActivEd) to review data on the correlation of physical activity (including physical education and sports) on cognition, learning, and brain structure. Key findings include: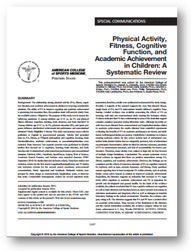 Physical activity has an impact on students in the classroom. However, there are still questions regarding how best to incorporate physical activity in the classrooms.
Physical activity is important for growth, development, and general health.
Physical activity has a positive influence on brain structure and function.
Download the research paper to get an excellent summary of what physical activity is proven to do in the classroom!
Health and Academic Achievement
Centers for Disease Control and Prevention (CDC)
Healthy lifestyle choices for kids lead to more successful students and stronger communities. In this report, the CDC outlines the evidence behind the healthy behavior that leads to improved outcomes and provides steps for stakeholders to implement change. Highlights of the report include: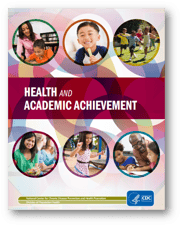 Research showing the positive impacts of healthy diets and exercise on student outcomes
Tips on conveying the benefits of health initiatives to key stakeholders including states, school districts, schools, parents, and students
Actionable plans to implement healthy choices in schools
Get the report to learn how healthy choices can make a difference in your district.
Active Education: Growing Evidence on Physical Activity and Academic Performance
Darla M. Castelli, Elizabeth Glowacki, Jeanne M. Barcelona, Hannah G. Calvert, and Jungyun Hwang
This research brief reviews a variety of research on physical activity and student achievement. A strong focus is placed on cross-curricular integration of physical activity throughout the school day. Key findings: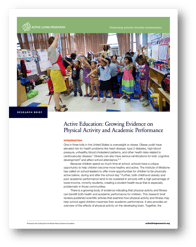 Active students do better academically.
Students can enhance attention and memory in just one active session.
Physical activity may improve brain health, explaining why student achievement improves after they are active.
Go to Active Learning Research to view the full brief.
Physically Active Math and Language Lessons Improve Academic Achievement: A Cluster Randomized Controlled Trial
Marijke J. Mullender-Wijnsma, MS, Esther Hartman, PhD, Johannes W. de Greeff, MS, Simone Doolaard, PhD, Roel J. Bosker, PhD, Chris Visscher, PhD
This study investigated the effects of an innovative, physically active academic intervention on the academic achievement of children.
Key findings include: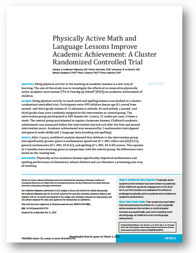 Active students showed significant improvement in mathematics and spelling.
Over two years, physically active lessons provided a four-month increased learning gain as opposed to lessons not requiring physically activity.
Download the research to learn more about this fascinating study.
Study Protocol: The Fueling Learning Through Exercise (FLEX) Study – A Randomized Controlled Trial of the Impact of School-Based Physical Activity Programs on Children's Physical Activity, Cognitive Function, and Academic Achievement
Catherine M. Wright, Paula J. Duquesnay, Stephanie Anzman-Frasca, Virginia R. Chomitz, Kenneth Chui, Christina D. Economos, Elizabeth G. Langevin, Miriam E. Nelson, Jennifer M. Sacheck
Fueling Learning Through Exercise (FLEX) evaluated the impact of physical activity programs on students' cognitive function and academic outcomes. The study reviewed whether moderate-to-vigorous physical activity was linked to academic achievement without aerobic fitness. Key study findings include: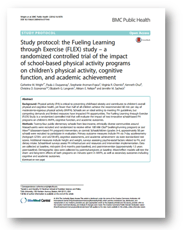 Aerobic fitness is positively associated with perceptual inference and spelling.
Aerobic fitness has a greater impact than moderate-to-vigorous physical activity.
Additional research between physical activity student achievement should be conducted.
Download the research to learn more about this study.