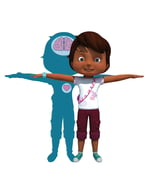 Time recently published an article on kids and their cholesterol levels. The article covers a report from the National Center for Health Statistics (NCHS). The report states that 7.4% of kids have high total cholesterol leaving them at risk for heart disease.
From the article:
"Hypertension is an epidemic that is reaching younger and younger populations," says Dr. Maan Fares, a cardiologist at the Cleveland Clinic (who was not involved in the study). "[The findings] come as a relative surprise, but it's not entirely surprising. It's beyond what I would have expected but not much worse. My speculation is that obesity and lifestyle for the most part are playing a role in this."
It is recommended that kids get 60 minutes a day to be healthy. Cholesterol and obesity are just a few signs of what an increasingly sedentary lifestyle is harming the next generation. Are you looking for a way to help your students?
With Walkabouts, your students are physically active while learning. Want to see how easy it is to integrate movement into your classrooms? Get a free trial of Walkabouts to see how we can help get your kids healthier!